Since the end of Dec. 2012 to nearly, I had too busy, not only my works, but also from my famliy.
My Father had Major surgery at his bottom of vertebra, after 2 weeks ago, he could went to home, but still need care and rest. So my mother and I must in turns to take care of him. My working cycle had slowly more and more. Chinese will coming at 9th Feb, I have to keep my 6 commission orders to past this Spring Festival, and I only finished all of works before 20th Mar.
My father's vertebra ill were began when he was young, but from 2011 he felt very pain, at 2012 he felt he cannot walk for a long time, when he felt pain, he must have a little rest at once, just because my grandfather (his father) still very bad of his health, so my father cannot surgery, until the end of 2012, he really can't to exercise patience of vertebrate pain, and my grandfather had gone, so he decided to surgery.
Dark Wooden Elf
Dark green cotton, Black cotton, Woven lace, Matel bells, Brozen bells, Brozen ornaments, Brozen beads slipper, Brozen slipper, Imitation crystals, Turquoise ball, Wooden ball.
All of the Design, made and embroidery was made by youya
+The Shoes were designed and made by Nalisinko Workshop+
Complete working hours: 19 hours
The model is Soom 2008 MD Onyx
Order Design (Sold out)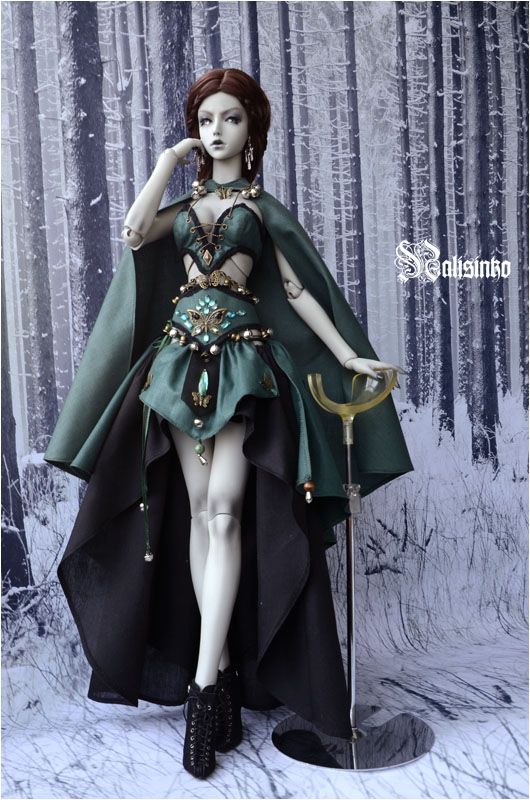 More Pictures
@темы: fantasy dress, nalisinko, order design, sold out, soom size, works